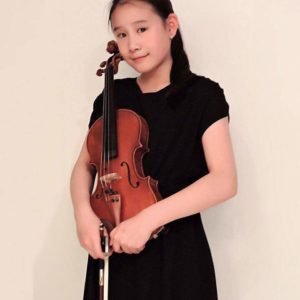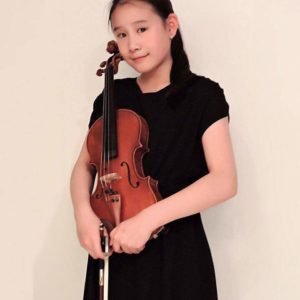 Born and raised in Kuala Lumpur, Malaysia, Kyvie Tan, currently 16 years old, started to learn the violin and piano at the tender age of 4 and by the age of 7, joined the Clap and Tap Children Orchestra from 2010 to 2013. She have had the honour to perform alongside the wife of the current Prime Minister of Malaysia, Tun Dr. Siti Hasmah with the Symphonia Fantasia String Ensemble in 2014, 2016, 2017 and 2018. She also have had the honour to perform for the Selangor Crown Prince, Tun Tengku Amir Shahibni Sultan Sharafuddin Idris Shahin for his birthday celebration in 2016.
She had obtained and completed the Licentiate Trinity College London (LTCL) Diploma in Violin Performance in June 2018 with distinction and Grade 8 Trinity in Piano with distinction in June 2017. She has now completed Foundation in Music majoring in classical violin at UCSI University in Malaysia under the UCSI University Trust Scholarship in 2019 and had the opportunity to perform for a masterclass under Evgeny Zvonikkov. Kyvie also received the Award of Excellence for Grade 6 and 7 Trinity for violin. She also won the gold award for Euroasia Violin Competition in Open Category: Junior Division in 2015.
Kyvie has also performed as violin soloist alongside violinist Kylie Tan for the first movement Bach Double Violin Concerto in D minor for "Classical Emotions" concert with Cerita Sinfonica on 21 August 2016, and "Double Joy 2.0" concert with KLPAC string ensemble from 2-4 June 2017. She had also performed the full three-movement Double Violin concerto in D Minor with the Selangor Philharmonic Youth Orchestra for the "Double Double" Concert on 22 April 2017.
Kyvie had also become the concertmistress for Young Malaysians Go Classic II (YMGC II) 2017 under the baton of Kevin Field and Sir Dirk Brosse, M-1-K-A-D-0 Opera with the Central Queensland Conservatory 2018 under the baton of Kevin Field and Symphonia Fantasia String Ensemble. She is also currently the second violin principal for Philomusica String Orchestra.
Kyvie had the opportunity to be interviewed and featured in local Malaysian channel TV9 "Nasi Lemak Kopi O" with Upin and Ipin in 2014 and TV3 Malaysian local news in 2019, having the opportunity together with Musicians Linkage. Kyvie also took part as a violinist in the original album "Hope" launched by Calvary Music and Creative Arts in April 2019.
Kyvie is currently a member in the Malaysian Philharmonic Youth Orchestra (2017-present), Selangor Philharmonic Orchestra (2014-present), Penang Symphony Orchestra (2016-present), Kuala Lumpur Performing Arts Centre Orchestra (2013-present), and Philomusica Chamber String Orchestra (2018-present). She is also a former member of Permata Seni Muzik (2014-2017), Symphonia Fantasia String Ensemble (2014-2018), and Clap and Tap Children Orchestra (2010-2013). She has also been invited as a guest musician for University Putra Malaysia Symphony Orchestra (UPM) in 2016 and has performed for more than 60 concerts throughout her music journey. She has also toured and performed in Xi'An, Beijing, Xiamen, Hong Kong, Singapore, and Jakarta.
Kyvie has also get to perform in the prestigious Dewan Filharmonik in KLCC Malaysia, Esplanade Hall in Singapore and also Hong Kong Cultural Centre Concert Hall in Hong Kong. She is currently under the tutelage of Dr. Goh Chia-Chien.